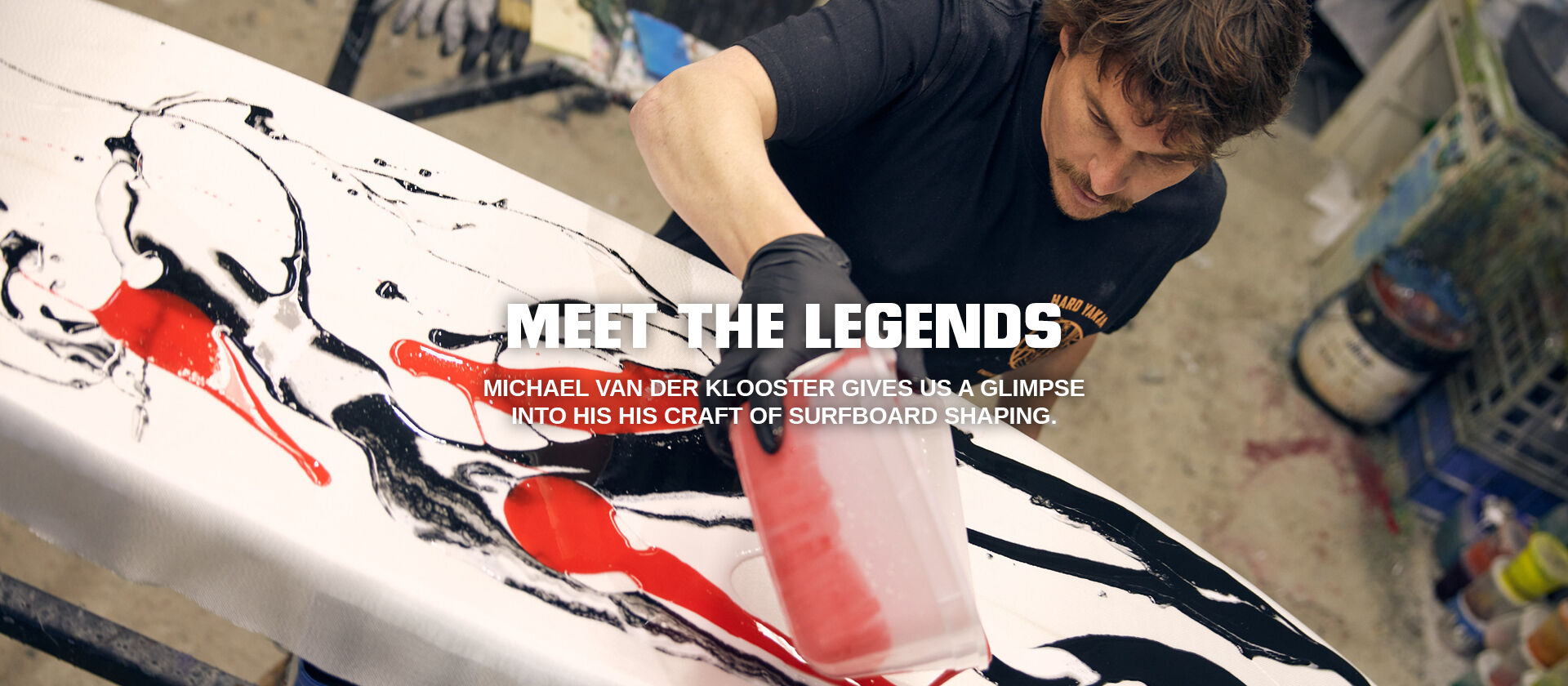 Our new series features everyday heroes that embody the Hard Yakka Spirit. We get a glimpse into their craftsmanship and inspirational journeys.
Our first legend we are featuring is Vanda, a surfboard shaper based near Bells Beach in Victoria.
Watch the mini film below.
Meet Vanda and learn his story...
Surfboard shaper, business owner, and Bells Beach local Michael Van Der Klooster, better known as Vanda, has been designing and hand-shaping surfboards for the past 23 years through his brand Vanda Surf.
"Growing up in Geelong, I was super lucky to have the surf coast as my backyard. I started surfing when I was eight years old and always looked up to all the local surfers and surfboard shapers and dreamed of one day designing and making my own boards. It's been 23 years since I've been making boards, and I still love what I do every day.
I love helping people on their journey of creating the perfect board for their surfing adventures. When a customer comes to me, I try to get to know them and their specific needs, such as their skill level and the type of waves they like to surf. We then tailor a board design to their needs starting with a design model created on my laptop. From there, we cut that design out on the CNC machine, and the fun part begins. We hand shape the board then move to the fibreglassing process. This is where we often add lots of cool colours and bring the board's uniqueness to life. The final stage is sanding, and then its ready to be launched into the ocean to ride some gnarly waves. It gives me so much joy to make a board that will make someone really enjoy surfing.
My boards are a combination of function and fun. I make sure the board's performance matches how good they look. I love fast cars, so I get a lot of inspiration from supercar design and try to emulate them in my designs. I've created designs on both ends of the spectrum; some boards feature soft pastel colours while others are insane fluoros or matte black like my own black carbon fibreboard.
What I love about surfing the most is being out in the natural environment, and I think it's vital that we don't disrespect the environment that gives us so much joy. We need to protect the oceans from man-made disasters like pollution and rubbish in the oceans.
Sustainability is as important to me as it is to the team at Hard Yakka. At the factory, we recycle everything we possibly can to limit our landfill. My long-term goal is to make the factory fully solar-powered, and I've been working with a lot of carbon fibre in manufacturing, trying to produce a longer-lasting, higher-strength surfboard. This means my boards have a longer life rather than ending up in landfill."